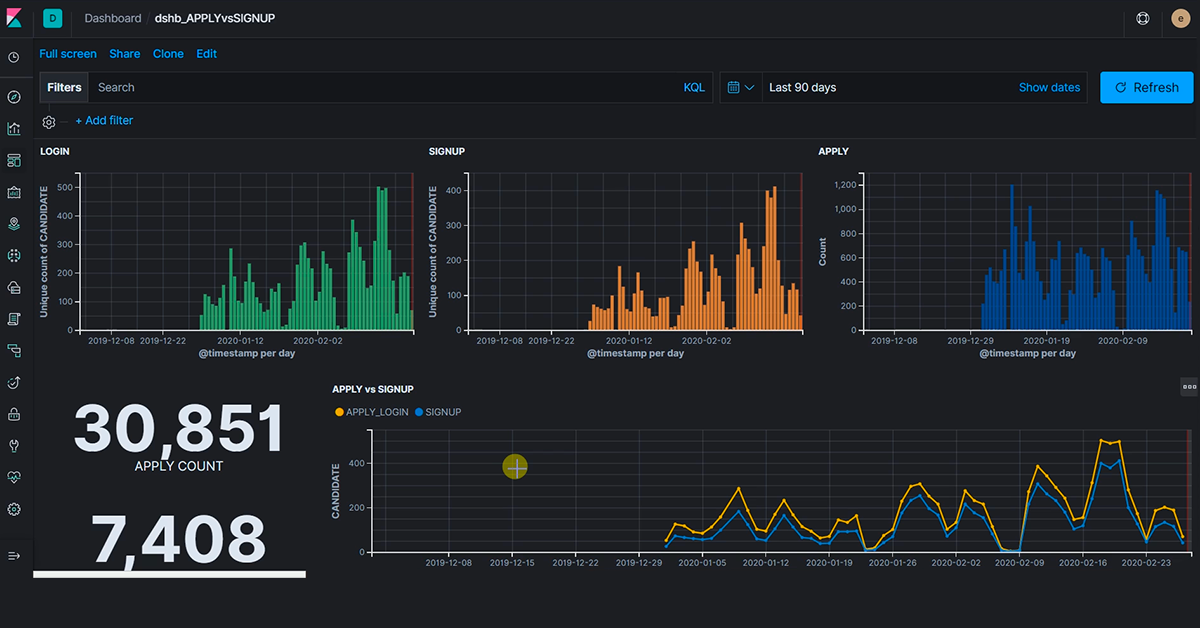 The last decade has been characterized by one of the deepest and pervasive evolutions of the digital world: big data management.
In an increasingly global and interconnected world – governed by data – are analytics skills and technologies that transform raw data into valuable information for business decision makers (C-level executives and HR Managers); today it is possible to obtain a competitive advantage thanks to prompter and more up-to-date decisions: data-driven.
To undertake a digital transformation process of the HR department, it is necessary to change the methods of data collection and management and to implement tools and technologies to support each one's recruiting activities.
Data-driven recruiting… what is it about?
Idea: if I can trace a series of data and information (analytics), capable of defining homogeneous pictures of the scenario in which I operate (recruiting), I will have an advantage in the phase of research and selection of profiles.
Here's an example: Knowing that a source of recruitment for a specific position can guarantee me a greater number of candidates in line with my research, allows me to optimize times and resources needed for the whole recruitment process.
In this way we switch from a "push" strategy based on massive recruiting marketing to a "pull" strategy that provides a specific allocation of resources on the most effective source of recruitment.
The importance of having data-driven talent acquisition and people management strategies
"Knowing" something implies being aware of analytical evidence (data) that verifies our initial feeling. Often the perception and sensitivity of the recruiter are aligned with the data collected but this is not always the case. It is like when we are in the car and we are aware of going fast but we are not able to quantify the actual speed without reading on the dashboard.
When we talk about recruiting strategies, having data analytics is essential to support our initial feeling and help develop effective and efficient HR strategies.
There are different types of data: let's discover them together
By definition, data-driven recruiting involves a series of data to be analyzed; it is therefore important to define exactly which types of data we should have within our recruiting software.
Let's see them together:
personal data (now present in all modern and fundamental ATS for a recruitment process);
data of origin of the candidate;
professional data;
assumptive data;
Once identified and collected, all these data are analyzed and crossed to define the so-called Recruiting KPI.
The importance of analytics as a source of recruitment
Recruitment analytics are critical. We are not only talking about being able to determine the first contact (e.g. when the profile completes the offer registration format), but also to establish when the candidate comes back to register for a new position or when he / she accesses his / her personal area; in short, being able to trace the candidate journey.
The most relevant data that a recruiter can analyze is the recruitment rate by source of recruitment.
Reflections
In this article we only wanted to focus on talent acquisition processes but data-driven strategies can also be applied in the daily management of coworkers (defining, for example, strategic drives starting from performance analytics).
In conclusion we can say that: if the basis of data-driven strategies is the ability to be able to determine and collect HR analytics, the analytics themselves base their survival on the existence of HR software – such as talent management software – capable of collect and sort the data received.
Our advice? Define a data-driven digital recruitment strategy supported by tools capable of converting big data management from difficulty to opportunity.
Employer Branding: "all that glitters is not gold"
Employer Branding includes short-term activities and long-term strategies. It is about the ability to make one's reality perceive attractive in order to push people to want to be part of it.
If we plan our actions strategically, considering all the factors involved and setting specific objectives, we are doing Employer Branding; on the contrary, simply supporting them with a contextual recruiting activity risks reducing the effectiveness of the entire process.
We see also in this case a concrete example: the platforms for video recruiting are now inflated; functional to the individual recruitment activity, they undoubtedly contribute to creating a positive employer branding. However, if these activities are not included in an instrument capable of managing the entire supply chain (such as a CV database), they risk being non-structures and repetitive.
The same problem could arise in a multiposting activity. In fact, multiposting also has a dual utility: on the one hand it is functional to the recruiting process and on the other it is very useful as an employer branding action. However, if multiposting cannot rely on the solidity of an HR software, the risk is that the applications received remain scattered in the various job portals and must be collected and processed individually by the recruiter. An activity therefore not optimized and which is not part of a strategic planning.
In conclusion, the absence of strategy in the activities does not make them an end in themselves, but implies an increase in work and resources necessary for them to acquire value.
On the contrary, the direct consequence of a good strategy is the growth of the organization's assets.