Post COVID-19 scenario: what will happen next?
Table of contents
The management of the pandemic from a medical point of view is undoubtedly the most important aspect that we are experiencing, but this lockdown must not slow us down; we must be ready to think about restarting, instead. How will we work next?
It is now clear that Covid-19 will not suddenly disappear one day giving us back the daily routines we were used to, but it will remain for a long time and we will have to learn to live with it.
During the emergency, most organizations tried to get by (cases of companies that had a comprehensive and long-term smart working strategy are rare), repairing the damage with temporary and fragmented solutions, in response to individual contingent needs.
When we will be restarting, these tools will not be enough and will generate a new problem, perhaps more complicated than the lockdown itself: the collection and integration of all information. At our returning to the offices, we will have to learn to work with new rules, never lived and never thought of; new dynamics of business organization that must necessarily pass through the HR department.
1. Which scenario will we be facing?
It will not be enough to adopt safety devices to come back to normal life.
Probably not all coworkers will be able to work at full capacity in the same location (as we used to do), they will need rotations – and this means being ready to manage them with adequate tools for sharing information, projects, activities etc.
The pace of work will rise compared to what we are experiencing today and probably company sharing and collaboration tools – such as Enterprise Social Network – will become necessary to allow the effectiveness of work, in a virtual workplace, and no longer necessarily physical.
The absence of coworkers could change from the classic 3 days to 2 months, and this will force us to think about creating more flexible and adaptable structures. Probably the same information of the employees will have to be mapped, aggregated and studied to meet work and health needs.
The interviews, traditional assessments, career days, events and workshops are all activities that will have to be reread in a new key, rethought and redesigned.
2. How should we act?
HRs are the first who will have leave the "comfort zone" to which they were accustomed and understand that the only possible answer to create new organizational forms is the definition of a strategy of digital transformation, guided by a precise will to change management; a condition no longer of discretionary choice but dictated by market needs.
The rules of the game have changed and the sooner we understand it the sooner we are ready to react.
The only advice we can provide you is to start immediately to develop a new culture geared towards change, the digitalization of processes and the construction of more fluid and streamlined structures that allow centralized management of all information.
The implementation of software such as: Applicant Ranking System, video interview systems, digital assessment tools, Talent Management Software, Social Networking Software, smart working software etc. will allow you to organize, plan and manage your resources and your business in a completely new scenario.
Arca24.com SA is an HR Tech Factory specialised in the development of cloud software for the human resources sector.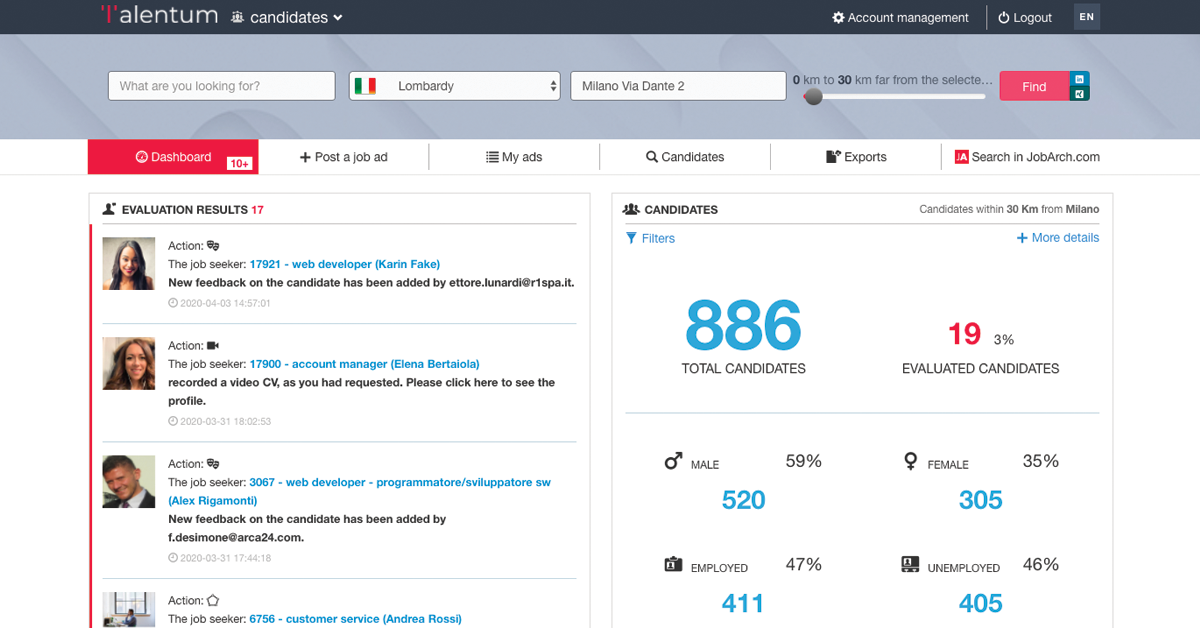 Talentum – Talent Management Software
Talentum is a complete and intuitive end-to-end solution that allows the HR department to acquire, manage and optimise the workforce throughout the employee's life cycle (from search and selection activities to the onboarding of selected candidates).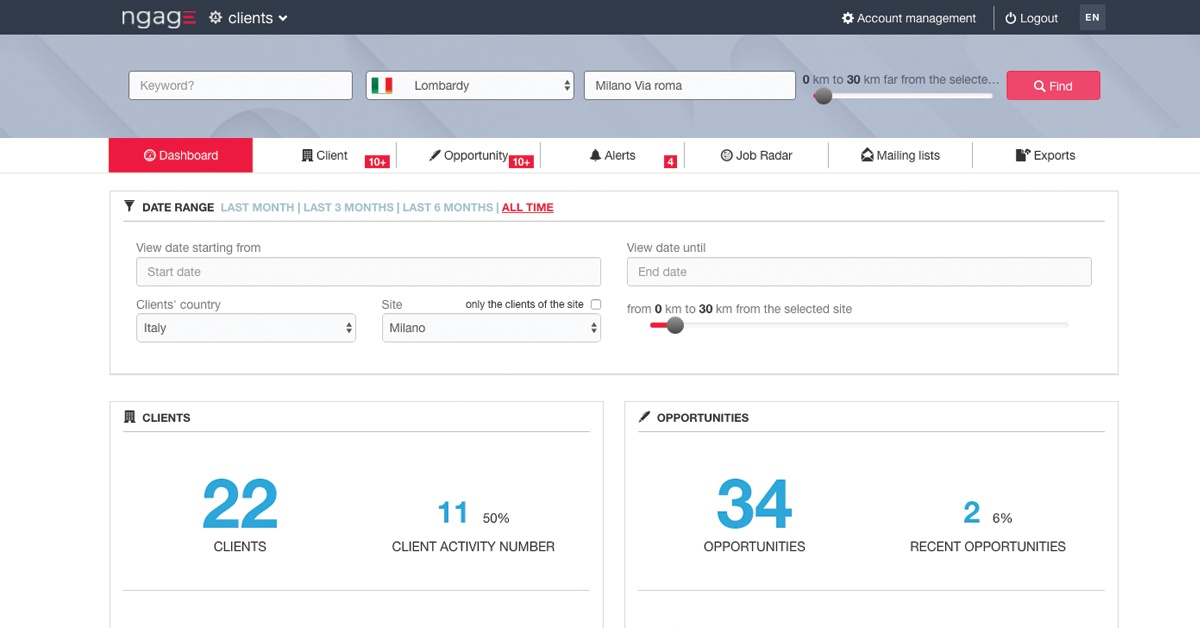 Ngage – Staffing Agency Software
Ngage (ATS+CRM) is a solution developed to support staffing and employment agencies throughout the entire production cycle. It optimizes and digitalize the processes of talent acquisition, customer relationship and administrative management.