The Job Test has evolved and improved: what's new?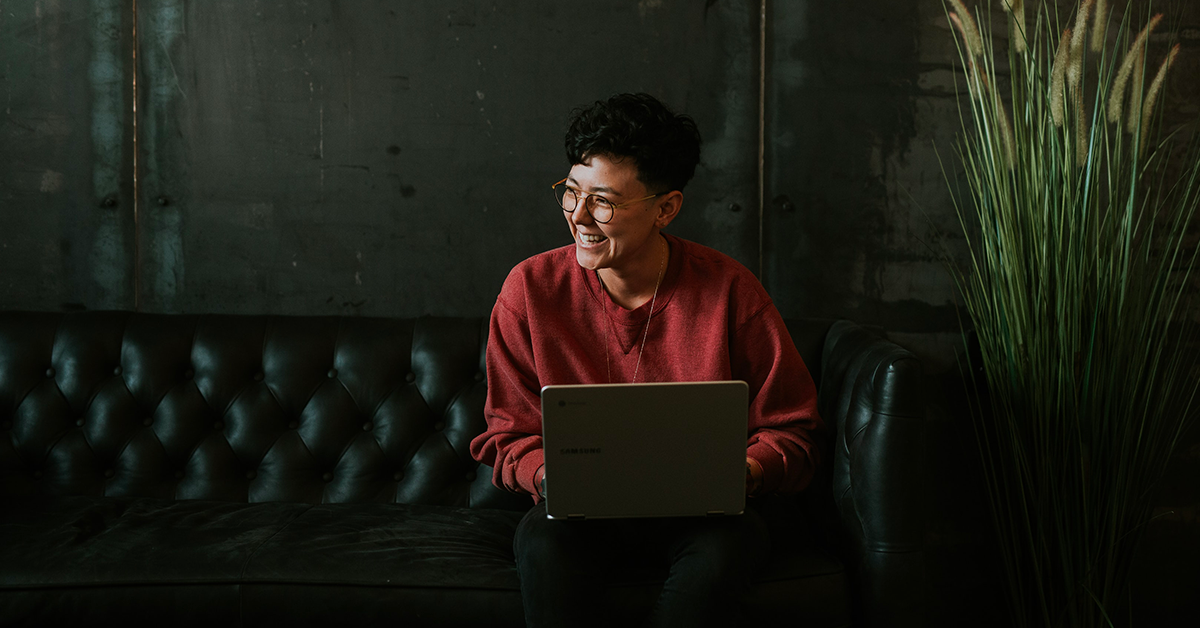 The Arca24 Job Test is an assessment based on candidates' soft skills, available within the ATS module (dedicated to research and selection processes) of Talentum – Talent Management Software and Ngage – Staffing Agency Software.
1. The "old" version of the Job Test
The previous version of the Job Test (46 questions) allowed to approach very quickly and with good accuracy the needs of clients and candidates in matching the required soft skills.
However, this step required careful reading and analysis of the results by the recruiter, often leading to doubts and a high degree of arbitrariness in the interpretation of the information collected.
2. A new optimized version
The latest version of the Job Test (released with the October upload) was created with the aim of refining our ATS and making the test result more precise and usable.
That way the recruiter will not have to try to interpret the personality test and will have the opportunity to benefit from a more effective and targeted matching system.
In addition, the new Job Test provides the possibility of matching personality dimensions with the candidate's seniority, role, gender and education levels, offering a tool that work both on potential and actual adaptability to a specific job title or business context with a high degree of precision and simplicity.
3. The importance of soft skills' assessment
Several studies show that within a few years soft skills will have an impact on pay of around 40% for all professional levels and roles, including operational ones and those for which today, very often, the use of a soft skills assessment system is considered unnecessary or difficult to identify.
The current Job Test, thanks to a study on a sample of 100,000 candidates from different cultural, social and personal backgrounds, is able to define 14 personality models, the result of crossing and weighing 14 different sizes.
Those 14 models are described in a simple and intuitive way and the 14 dimensions are represented by a histogram which, compared to the previous enneagram, allows to understand what are the prevailing characteristics and their weight in the overall evaluation.
Recruiters are also provided with a suggestion that links the model with specific professional positions.
Here below you can find an example of a Job Test result: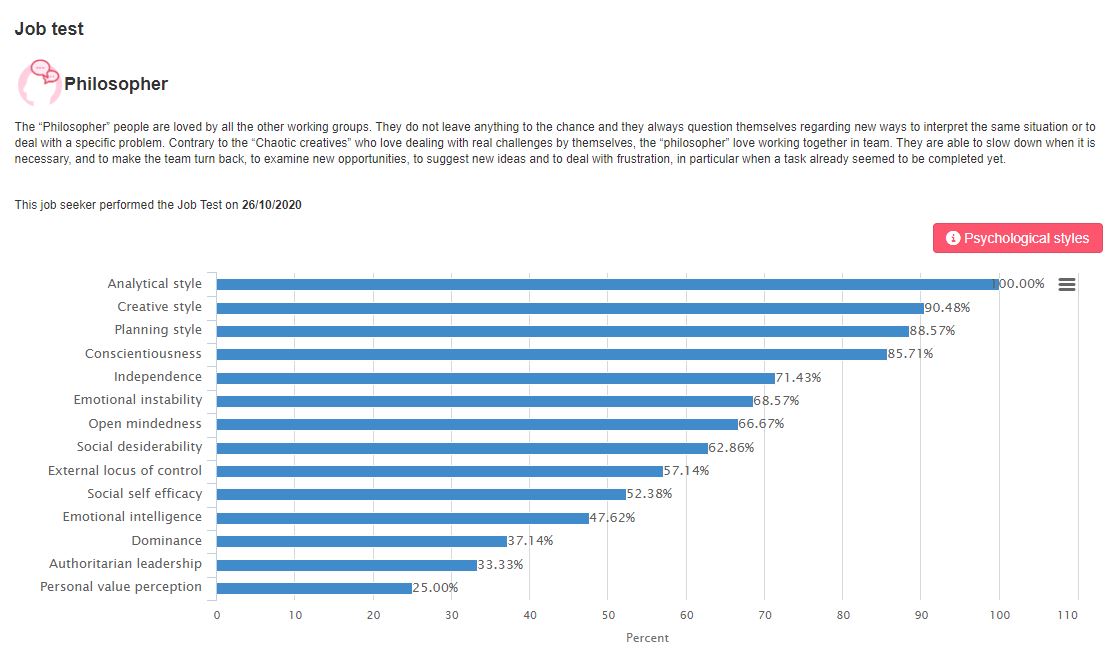 Share This Story, Choose Your Platform!
Arca24.com SA is an HR Tech Factory specialised in the development of cloud software for the human resources sector.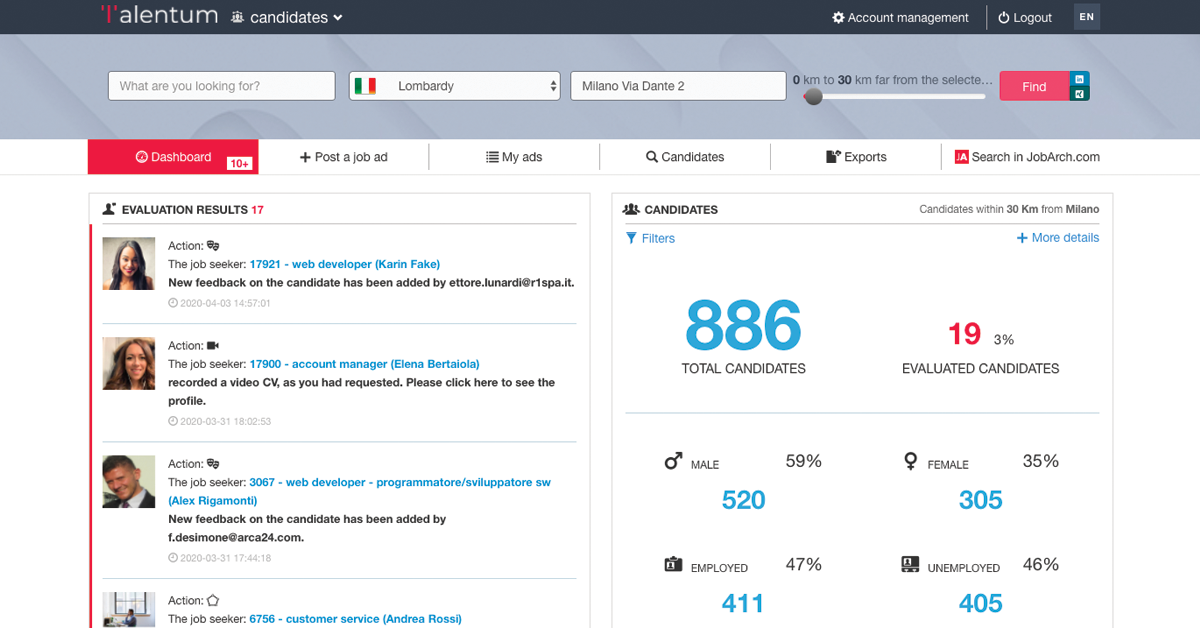 Talentum – Talent Management Software
Talentum is a complete and intuitive end-to-end solution that allows the HR department to acquire, manage and optimise the workforce throughout the employee's life cycle (from search and selection activities to the onboarding of selected candidates).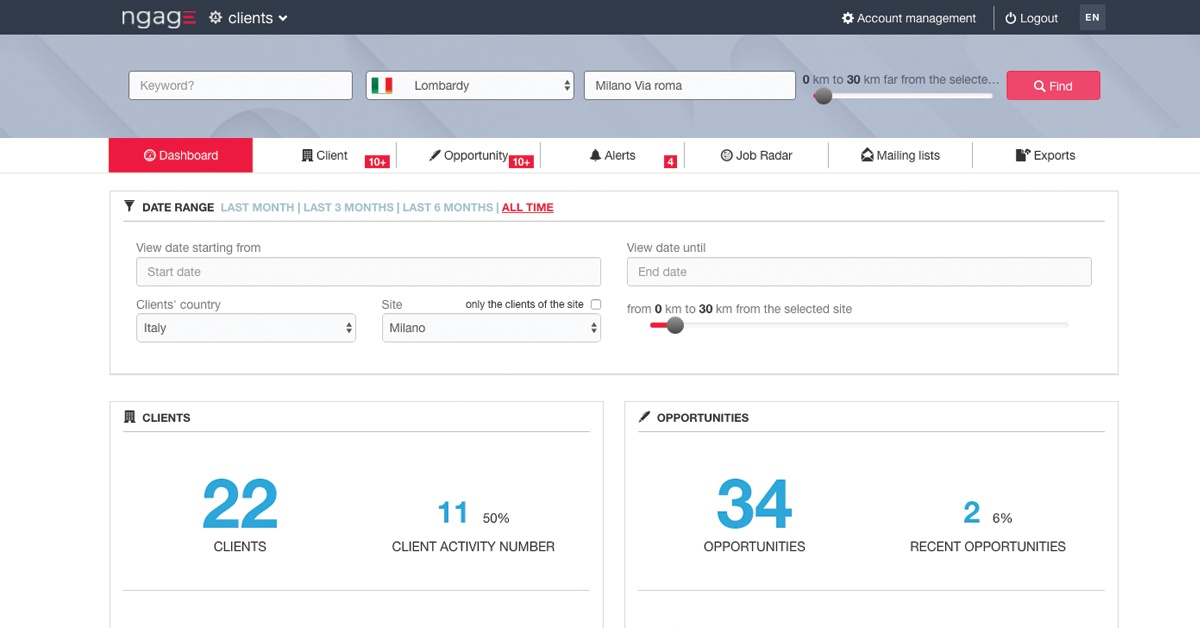 Ngage – Staffing Agency Software
Ngage (ATS+CRM) is a solution developed to support staffing and employment agencies throughout the entire production cycle. It optimizes and digitalize the processes of talent acquisition, customer relationship and administrative management.
Other items from category "Recruiting"