Ngage CRM is a module developed to manage the relationship with the client, from the receipt of the job order to the sending of the short list of candidates.
Within the system it is possible to manage all customer data, offices and contacts, activities, feedback, alerts, opportunities, and mass mailings.
Manage the relationship with the client, keep track of the feedback received and simplify the administration of candidates hired with a single application.
Features and benefits of Ngage CRM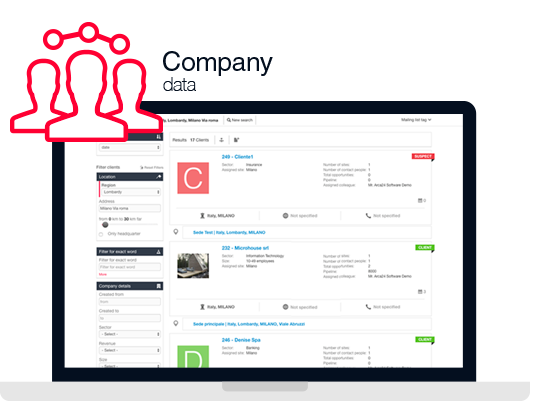 1. Customer database management, offices and contact people
CRM allows you to manage all customer information concerning active clients, prospect and suspect companies from a single application, keeping all company data, size, sites and contact people for each branch.
2. Dashboard of job orders, leads
All commercial information is collected in a specific section within the client's profile. You can easily check all current job orders, by site and by recruiter, those successfully or unsuccessfully closed.
The system allows downloading data, which provides an overview of the company recruiting performance, e.g. after when the first candidate's summary is sent to the client.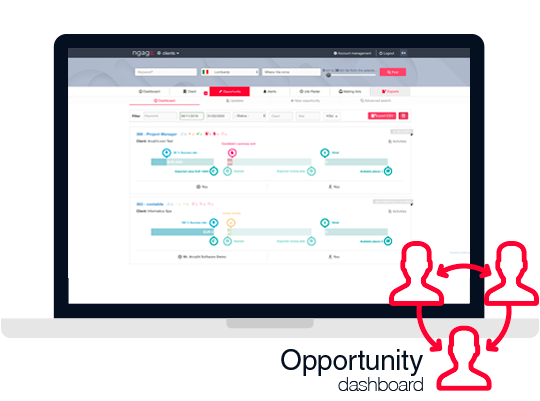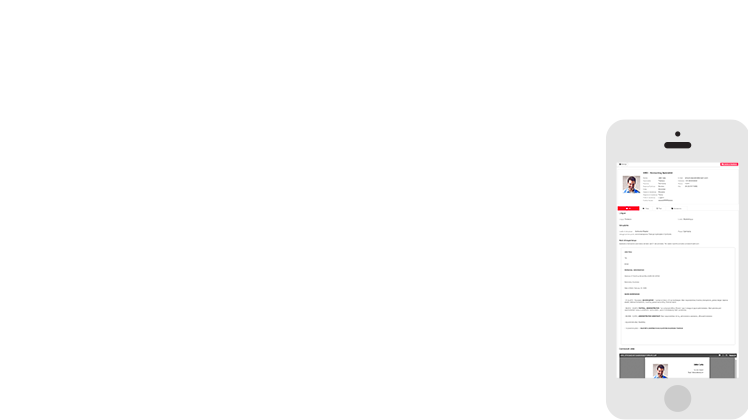 Sending the profile of candidates to clients has never been so easy. Through the profile configurator it is possible to decide what can be made visibile to the client: photos, videos, tests, professional and personal evaluation and CV with unencrypted or with obscured personal data. The customer will receive an email with one or more links, which are activated with an auto-login, to view the profiles received.
It is possible to send individual emails to customers or mass emails. Once the list of recipients has been defined, you can start creating a message, inserting text and any attachments and defining the sending time. The system also allows sending CV preview lists of the candidates available in the database as a suggestion and commercial proposal.
5. Proposed candidate
When your client starts a difficult candidate search, it is possible to set it in the system and decide whether a notification should be directly sent to the client or to the recruiter, once a new suitable candidate has registered at the database. In this case, the profile will be presented as a preview and without any personal data; at that point, the customer only has to call the branch to schedule an appointment with the candidate.
6. Job radar
Ngage gathers together the job offers published on the main portals and keeps them for 90 days on its server. Almost in real time the consultants within the staffing agency can view both the latest job offers suitable for their research, and therefore referring to the same pool of talents, and the candidate research on which their competitors are working.
7. Client's personal area
A personal area can be created for each client where all the candidates' profiles received are always available through multimailing, candidate's summary sending and the "proposed candidate" method.