What is a Social Networking Software?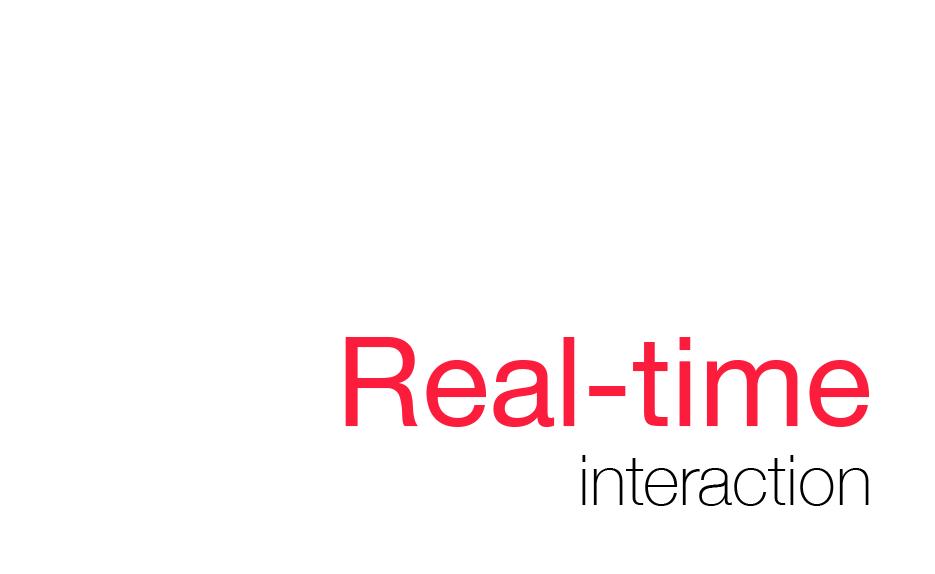 The corporate social network that allows communication and content sharing with the team members in a dynamic and interactive way, in real time. An Enterprise Social Network (ESN) that can be integrated to our Human Resource Management (HCM) software, which is able to simplify interaction and collaboration within the company, by ensuring a positive and engaging user experience for employees.
An intuitive, user-friendly and mobile responsive platform for a digital work environment, which increases employees' productivity and participation by doing smart working.
Features and benefits of Social Networking Software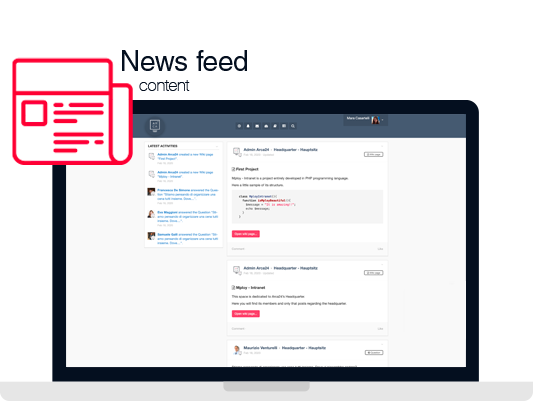 1. Dashboard and news feed
The Dashboard is the central element of the social network. All new contents related to the groups to which a user is subscribed, as well as new activities and publications of interest will be shown in the news feed.
Activity streams, status updates, interaction with posts, e.g. likes and comments, and real-time notifications help users connect with each other and stay up to date on what matters.
The platform allows users to join public or private groups, for each of which it is possible to set access rights and rules: for example, specific viewing permissions for dedicated pages. Collaborative sharing and network space allow the complete exchange of activities and documents.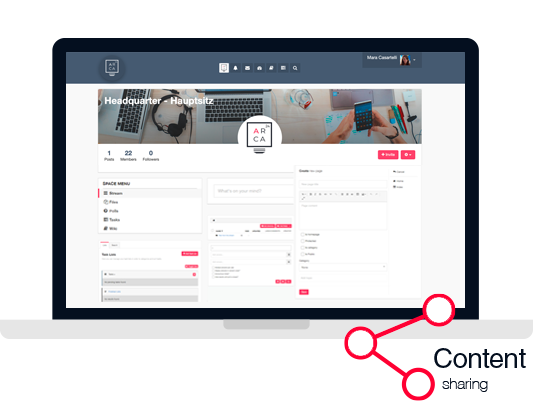 Within groups it is possible to work in teams and create projects, make research, launch topics or simply share information with the other members.
File sharing occurs on pages; in this way, all processes are centralized and information is always available on the platform.
It is extremely important to ensure a secure exchange of information and centralized document management to enable effective collaboration. All information can be accessible for all employees and all documents can be shared, opened and stored.
All information about internal processes, best practices, company regulations and much more can be made available to all employees through informational "wiki" pages.
6. Surveys
The platform allows the creation of surveys and questionnaires that can be sent to all team members to share opinions and increase employee participation.
7. Task assignment
One or more tasks can be assigned to each user, who will see that on his/her personal task overview, along with the ability to receive assignment notification via email.
Each member has a public profile that is visible to all registered users. Thanks to the integration to the Onboarding & Data Management module, a user will be automatically created on the network for each new record entered in the system.
Users can post contents and share them within the team or keep them private, by using their personal area as an online file. The system also allows updating the profile information and settings at any time.