What is a Performance Management System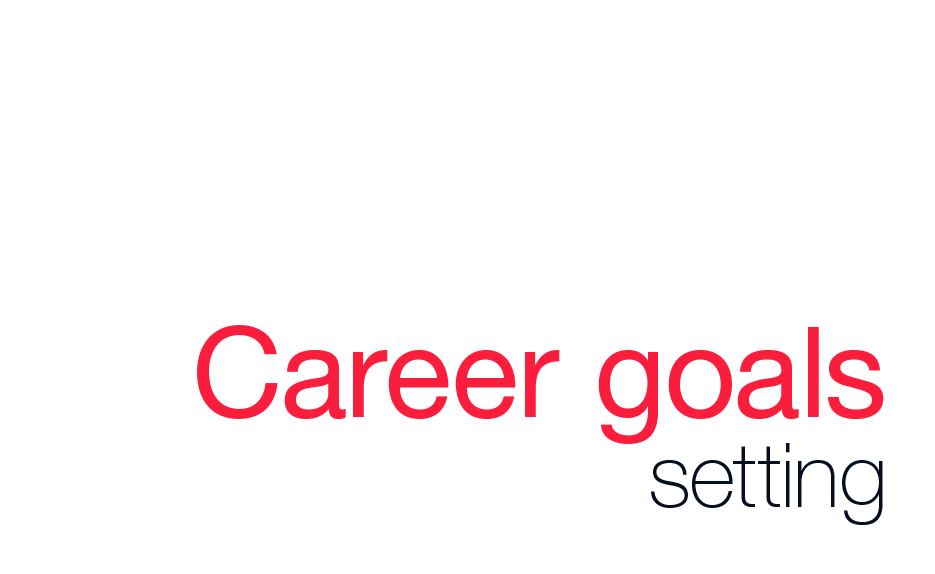 A Performance Management System is an evaluation tool that allows you to monitor all deviations from three variables: quantitative objectives (generally business related), – defined as targets – the technical skills and expected behaviors that characterize a role within the organization.
Talentum – Performance Management is an additional module to Talentum – Onboarding & Data Management, which allows you to perform complex or simple evaluation events, in order to provide constant evaluation and continuous 360-degree feedback, capable of returning the necessary elements for the definition of reward systems, career plans and training and behavioral gaps.
Features and benefits of a Performance Management System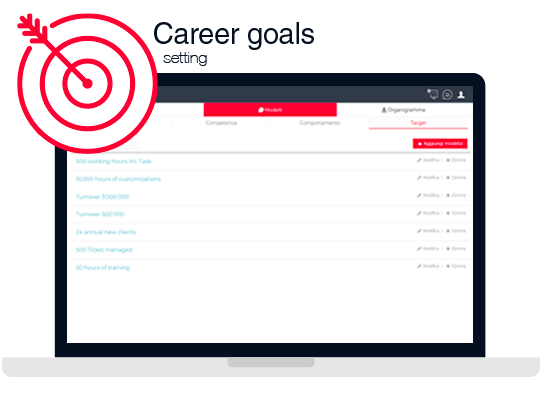 The Performance Management module is entirely dedicated to defining corporate objectives. In this section it is possible to insert a series of target models (objectives) that can be associated transversally to one or more company roles, present in the organization chart (defined by the Onboarding & Data Management module). The system allows the association of the same target to different roles.
Mploy Performance manages four different types of evaluation events: standard, custom, self-evaluation and smart.
Event that is created on the basis of the different corporate hierarchies (with respect to the organization chart); the hierarchically higher role or roles can go to evaluate the hierarchically lower roles.
It is a standard valuation event released from corporate hierarchies; this type of evaluation can be used to allow different roles to exchange feedback (e.g. during an internal intra-departmental company meeting: those who hold the meeting can be called to evaluate the participants or vice versa).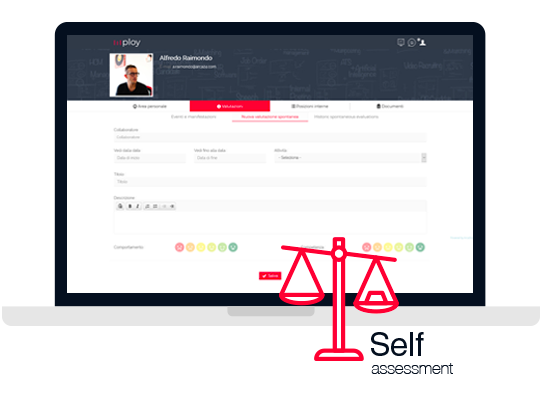 HR (or more generally those who manage staff) requires one or more roles to self-evaluate. In this event (as for standard and custom assessments), employees are called to evaluate themselves on the basis of: skills, behaviors and targets associated with their role.
An event that is created ad hoc based on the specific needs of the customer; a recurring event that allows continuous 360-degree feedback from the whole company. In the long run, it allows an overall assessment of the company performance.
Possibility to integrate or develop events that go beyond these four to better respond to customer needs. If the customer already uses an ad hoc format, it is possible to report the structure as a customized event within the system.
7. Spontaneous evaluation
Possibility of being able to express feedback about yourself or your colleagues independently, at any time, within the profile of the employee.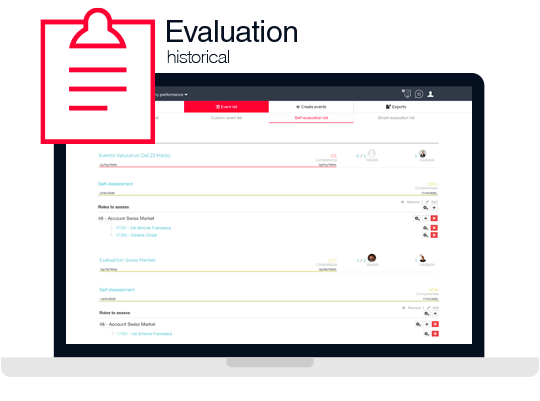 A history of the required assessments and all spontaneous assessments is available within the employee's profile.
On the HR side there is a section where events are managed and, in addition to the history, there is a tracking of the various assessments (also for those in progress), with visibility on how many people have been assessed and how much is missing at the closure of a specific event.
This section provides an overview of all the assessments made within the company; for each type of event it is possible to view the total number of evaluations carried out with an overall average of the scores obtained and a time chart showing the performance trend in a specific period.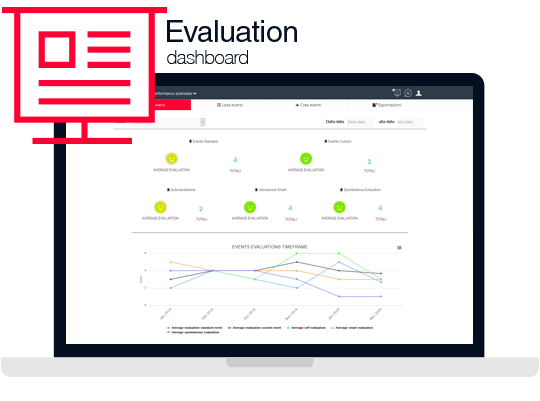 10. Reporting and KPIs
A special form that returns detailed statistics on all the evaluation components; it allows you to cross all the metrics collected and extract detailed data with respect to: employees, offices, departments, departments or a specific period of time.
Take advantage of the potential of a Performance Management Software to support your staff in developing professional goals and opportunities.
With Talentum you can clearly define the result expected by each employee and have an accurate feedback tool. Track all the activities and tasks of your team and monitor their progress!